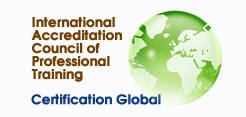 When you've completed an IACPT training program and been accepted for status as a certification holder in IACPT, you will receive the following items:
Designation Certificate

Membership Declaration Certificate

Login credentials for the Members website

Access to IACPT member network

Publication of your name in the global verification database
Certificate processing normally takes a minimum of 6-8 weeks. Immediately after approval, IACPT applicants receive confirmation of the acceptance of your membership and your designation certificate document that you have been qualified and approved to receive.
The primary method of certification is by completion of a recognized IACPT training program from any local Approved Training Provider (ATP). However, exemption of course(s) may be granted based on applicant's pass credentials and achievements in the field. Board review is required for advanced standing qualifications, the following are some of the criteria for exemption status:
Certificate holder from an accredited institution in same or similar designation.

Graduate degree (MA/MS/MBA, PhD) from an accredited institution.

Professor, academic researcher (college level).
IACPT only offers certification, charter or designation qualifications to individuals with a minimum graduate education requirement of professional working experience or industry expertise. IACPT has specifically designed specialist designation curriculum targeted to qualified professional, who would like to focus on their training on the essential skills for best-practice.
Examinations and assessment are currently provided as part of the course framework of an IACPT registered Accredited Training Provider (ATP). IACPT will provide standard exam criteria or terminal course objectives, which are then localized to allow for regional regulatory conditions and other market specific situations. Examinations are provided in the lingua-franca of the country where IACPT candidates are participating in the program. English exams are not mandatory, as we wish to make the IACPT sponsored and recognized membership and education accessible to as many qualified individuals as possible. The assessment committee intends to centralize examinations with a local and international component to the examination program. Core programs will be the first to qualify for global assessment, with specializations being assessed through course framework as currently performed.
Members who have taken the professional courses and certification can maintain their details and update credits, etc. through the exclusive IACPT member website. You can access the website by use of the following:
1. Go to the IACPT homepage: WWW.IACPT.ORG
2. Enter your details into the login box (top-right), as follows:
User ID: email address you registered with

Password: assigned and provided by email
The IACPT has seen a meteoric rise to affluence and membership in recent years, as financial executives, managers, and degree holders strive to maintain and augment their education, credentials, integrity, and skill sets. The IACPT Board is the regulatory body for the much sought after IACPT designations and credentials. The IACPT board certification requires passing several levels of standards including: training courses, testing, ethics and professionalism, degree, experience, and continuing education. Acceptance into IACPT is a high distinction and requires the holder to possess a graduate level portfolio of skills and knowledge.

IACPT approves and sponsors a multitude courses in many countries around the world. Each course has a recommended curriculum or topic coverage. Although our topic coverage or Terminal Course Objectives contain major areas of focus, the individual course provider has the flexibility to localize and tailor a certification course to meet the local laws, regulations, or even the local industry needs. As an example, IACPT recognizes several educational providers and organizations that already have a set of high-quality courses in different areas, thus, our committee of professors and industry experts will then review each course for its quality. IACPT also reserves the right to review and approve copies of course promotions, course notes, course exams and hand-outs.
All IACPT courses are expected to contain a segment on ethics and professionalism. Ethics and Professionalism varies due to government laws of each country. However, IACPT certified trainers and experts should be able to teach on the varying laws and regulations on the issues of: Integrity, Conflicts of Interest, Self Dealing, Confidentiality, Privacy, Securities Regulations and related statutes and codes.
The IACPT accredits or approves a limited number of training providers in each market it operates in. Each accredited provider must demonstrate to the IACPT Board that they have the capability to offer the highest standard of training consistent with IACPT curriculum and requirements, and the status of these providers is reviewed on an annual basis to ensure that quality standards are maintained. The IACPT encourages localization of course materials for each respective region and country. As a result, administration and trainers for local IACPT courses are eligible to conduct courses, but they first must attain board certification or approval as IACPT faculty. Alternatively, the IACPT arranges for certified and experienced lecturers to conduct training programs in various locations around the world.